A versatile singer/songwriter and multi-instrumentalist, carrying on the folk music tradition!............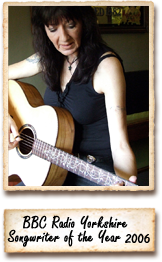 Hailing from the North Yorkshire National Park, Anna Shannon deeply embraces all things rustic. On hearing her homespun and organic compositions it is clear that the wonders of the natural world are the things that strongly colour her narratives. She is an immensely skilled multi-tasker, a creative and strikingly accomplished singer, songwriter, multi-instrumentalist, arranger and designer, with her own definite, intense vision and a strong musical identity to match.
Born into a musical family, Anna was, by the age of ten, already accomplished on classical flute, and at twelve was playing oboe, clarinet and trumpet. Guitar, fiddle, sax and bowed psaltery followed but it wasn't until in her early twenties that she discovered the folk scene. 2006 saw her first album "The Whale Dreaming" being released after being encouraged by winning BBC Radio "Yorkshire Songwriter of the Year" which she had entered on spec. Anna then forged a path straight into the heart of the folk world and festival circuits across Britain and Holland,releasing 17 albums,her songs describing life on the land and sea. Many artists,shanty crews,and fishermen's choirs in Britain and the continent now perform and record Anna's compositions and 12 of her albums have been accepted for and stored in the Vaughan Williams library of collected traditional English Music in Cecil Sharp House in London.
What people say about Anna….
"I have had the honour of sharing the stage with Anna Shannon, She's a truly fine multi instrumentalist, a great singer and as far as I'm concerned, a major song writing talent. The clubs and festivals are yearning for what she has to offer"
Vin Garbutt
"A singer / songwriter of the highest calibre. Her thoughtful and imaginative guitar accompaniment is a true match to these fine songs"
Martyn Wyndham-Read.
"Anna is a very good songwriter and her songs are of great merit. She is a polished performer who deserves greater recognition. We will hear more of Anna in the years to come."
Alan Bell, Director of Fylde Festival.
"stunning singing voice and distinctive guitar style"
Roots magazine