A versatile singer/songwriter and multi-instrumentalist, carrying on the folk music tradition!............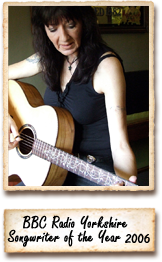 Since being awarded BBC Radio "Yorkshire Songwriter of the Year" in August 2006, Anna has been described as,
"fast becoming everyone's favourite songwriter, and a welcome and immensely popular addition to the bill of any festival or folk event. She's genuinely (and modestly) multi-talented, and enviably prolific"
In that time, she has released numerous albums of her original material, covering concepts of – maritime (2cds) - old America - love and war – the land etc., containing instrumentals , accapella and humour and accompanying herself on guitar and a range of instruments. She has also compiled a song book of twenty of her compositions, and many of her songs are performed by folk artists.
From a classical musical background (flute, oboe, saxophone and violin) Anna has featured in line-ups of diverse styles over the last few years but it is her award winning solo work on the folk circuit that is now earning growing acclaim.
Her varying guitar styles and honest voice, has been admired and accepted by many folk traditionalists and maritime and shanty singers
What people say about Anna….
"I have had the honour of sharing the stage with Anna Shannon, She's a truly fine multi instrumentalist, a great singer and as far as I'm concerned, a major song writing talent. The clubs and festivals are yearning for what she has to offer"
Vin Garbutt
"A singer / songwriter of the highest calibre. Her thoughtful and imaginative guitar accompaniment is a true match to these fine songs"
Martyn Wyndham-Read.
"Anna is a very good songwriter and her songs are of great merit. She is a polished performer who deserves greater recognition. We will hear more of Anna in the years to come."
Alan Bell, Director of Fylde Festival.
"stunning singing voice and distinctive guitar style"
Roots magazine